Should we rebrand our business?
At its core, your brand is a relationship, and relationships are meant to last. That's why rebranding your business or product — and changing how people perceive and find you — must be a strategic decision. No two brand relationships are alike, so there is no easy formula to follow. But you can determine if rebranding is right for the long-term growth of your business by exploring and understanding three concepts:
What are the different types of definitions of rebranding?

What are the most common circumstances that warrant or inspire rebranding?

What are the first steps of a successful rebranding project?
Rebranding defined.
Rebranding is any shift in your brand look or messaging to more accurately match the authentic experience you deliver day in and day out for your audiences (including your team). Because brand changes can be bold or conservative, it helps to see rebranding as activities that fall on a spectrum.
A full rebrand may take your company or product from one name and offering to another. Whether it's a total name change (from Lance Armstrong Foundation to Livestrong Foundation) or a name shift (from Restoration Hardware to RH), a new name cascades into a new logo, new colors, a new back-story behind the name…even legal fees. It's a huge commitment. More often, rebranding involves a new logo, look and messaging.
A brand refresh involves updating instead of overhauling.
A brand extension creates a unified look and feel for a growing brand family or hierarchy.

In this brand extension, we created a brand-family look for private air charter leaders Omni Aircraft Sales and Omni Air Transport.
When and why to rebrand.
Branding elevates your noble cause. It's your chance to tell your story with clarity and connect on an emotional level. Rebranding for the right reason can help you build upon the brand equity you've already earned.
To modernize.
Existing long enough to require modernizing your brand is a great problem to have. Even the Brawny paper towel man periodically gets a new hairstyle to match the times. (In 2017, he was temporarily replaced by a woman.) The important thing is to preserve your hard-won brand equity with a strategic update. Such was the case with our work for Flintco, a 112-year-old national leader in commercial construction. Our analysis of their original logo with its arrowhead mark revealed the company's deep connection to its Native American roots. But the rustic woodblock lettering and chiseled look masked the brand's commitment to the latest innovations and construction technologies. Our new logo elevated the brand while a new slogan cemented Flintco's rich heritage.

_As with our transformation of the Flintco logo, we often tell clients to think of a brand refresh as an evolution rather than a revolution. _
To align.
You live your brand experience every day, but have you unequivocally defined it? It starts with identifying your brand differentiators: the benefits that make you stand out. Dig down deep so you're not relying on the obvious or overused. For example, we help clients find ways to avoid watered-down messaging like, "Our people make the difference." Even in a crowded market, each brand has a specific value unique to them. As an agency partner, it's our specialty to identify the differentiators of your brand experience and communicate them to the world in a creative, memorable, and consistent way.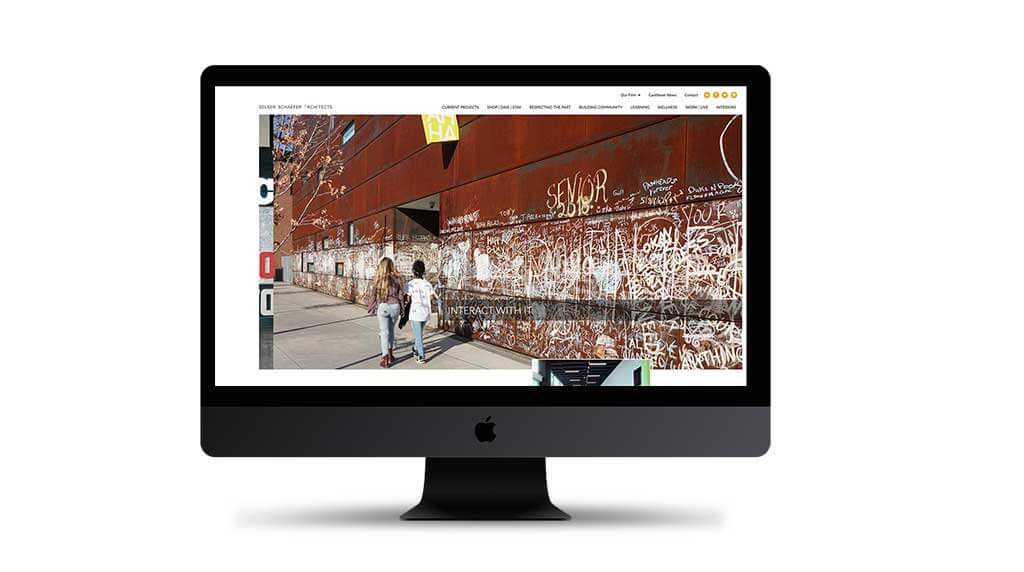 Our creative work matches Selser Schaefer Architects' brand mantra of "people-first design" by showcasing how people interact with their projects rather than depicting sterile architectural renderings.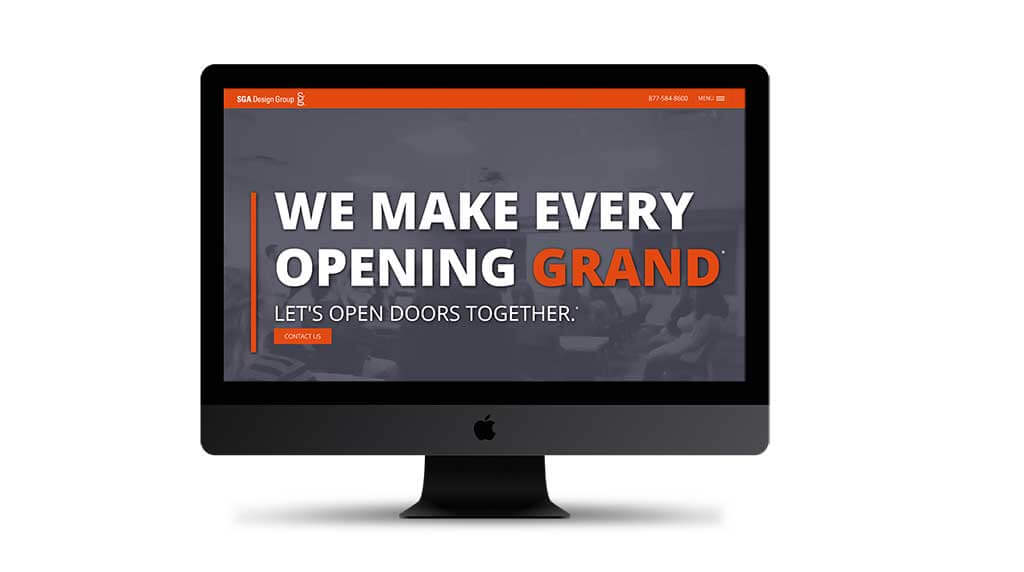 You've probably shopped in several of SGA's major retail projects. The slogan we created, "Let's open doors together," speaks to their national clients with multiple locations like Walmart.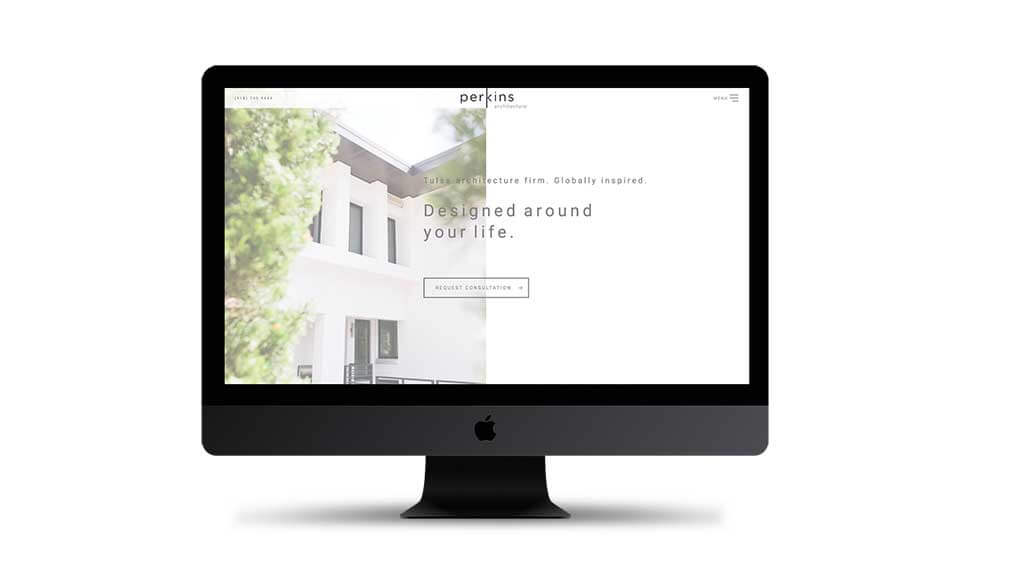 _Our logo for Perkins Architecture reflects the firm's modern design aesthetic and was recently published in LogoLounge. _
To bring clarity.
Overstock.com ran an expensive commercial with a national media buy to explain that they're more than overstocks. It's hard to bite the bullet, but they could have invested that money in a smart rebranding strategy. If you think you're going to eventually rebrand, we advise our clients to do it sooner than later. Perhaps your company is named after founders who are no longer present. Or perhaps your sales team must frequently explain, "We're more than this one product." Good branding can change perceptions and deepen relationships, but inaccuracies make the road harder.

The previous name of this retirement community confused potential residents by implying only people of one faith could join. Our new name and branding created the inclusive, welcoming tone the brand needed to grow.
To emotionally connect.
Donald Miller's concept of "Building a StoryBrand" has gained traction for the brilliant move of making your customer the hero of your brand story instead of you. The right brand story helps your people find you and feel a sense of belonging. Grogg's Green Barn is a Tulsa plant nursery with an all-organic promise. The new branding we designed for them invites organic gardeners into their green story as part of their tribe.

Our new logo brought a wholesome earthiness to Grogg's brand.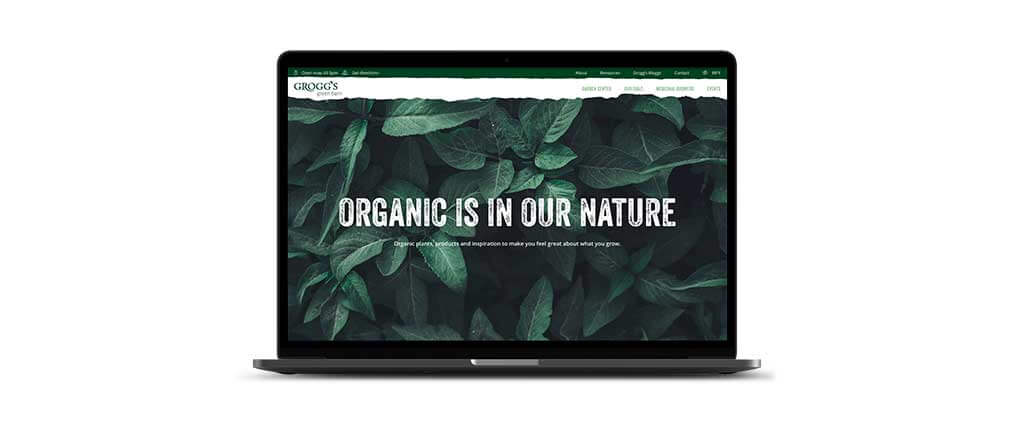 Brand storytelling both elevates and differentiates the brand.
To increase value.
Certainly, companies must rebrand after a merger or acquisition, but there's wisdom in doing it while vying for a sale or purchase, too. For example, we've helped companies for sale sharpen their brand to increase their value. We've also helped bring value to groups looking to purchase or partner with other companies.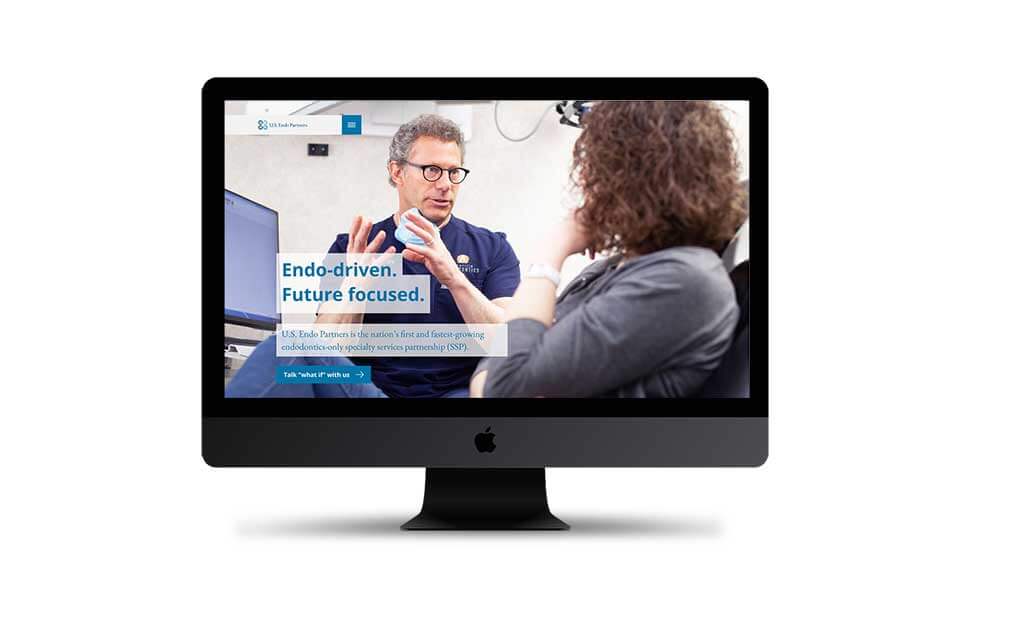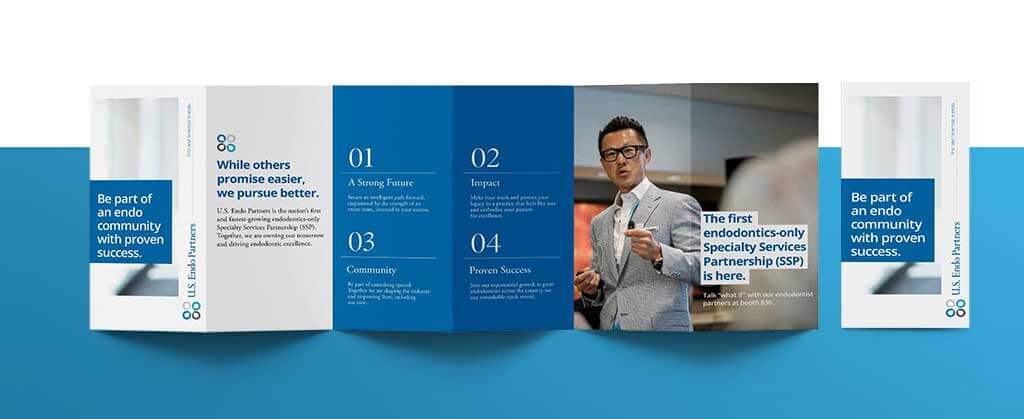 U.S. Endo Partners is constantly seeking to acquire exceptional endodontics practices. Our new branding and digital marketing underpin the group's position as the nation's leading and fastest-growing endodontics-only specialty services partnership.
To mitigate risk.
If your brand is associated with something negative, you can disassociate with a brand refresh in the way Kentucky Fried Chicken morphed into KFC with little fanfare when fried food fell out of favor. A brand in crisis with social media backlash may require measures like the Washington Redskins' name change to (the interim name of) The Washington Football Team. For such times, you need more than a strategic rebrand. When our clients need public relations in addition to branding, we partner with a dedicated PR firm. Brand copywriting and PR writing are vastly different.
Advice and considerations.
Wherever your rebranding strategy falls on the spectrum from redo to refresh, here are pearls of wisdom we've learned from working with smart and creative clients for 24 years.
You can rebrand without changing your logo.
While rebranding Omni Air International, we proposed a logo refresh to modernize its 25-year-old logo. However, the legacy logo not only wrapped the airline's widebody aircraft, it was seemingly everywhere — from embroidered on seatbacks to etched into first-class stemware. In the end, switching out so many materials was cost-prohibitive. The rest of Omni's new branding made up the difference. And we designed a 25th anniversary logo that the company proudly turned into a challenge coin. Omni Air International was successfully sold to Air Transport Services Group within a year.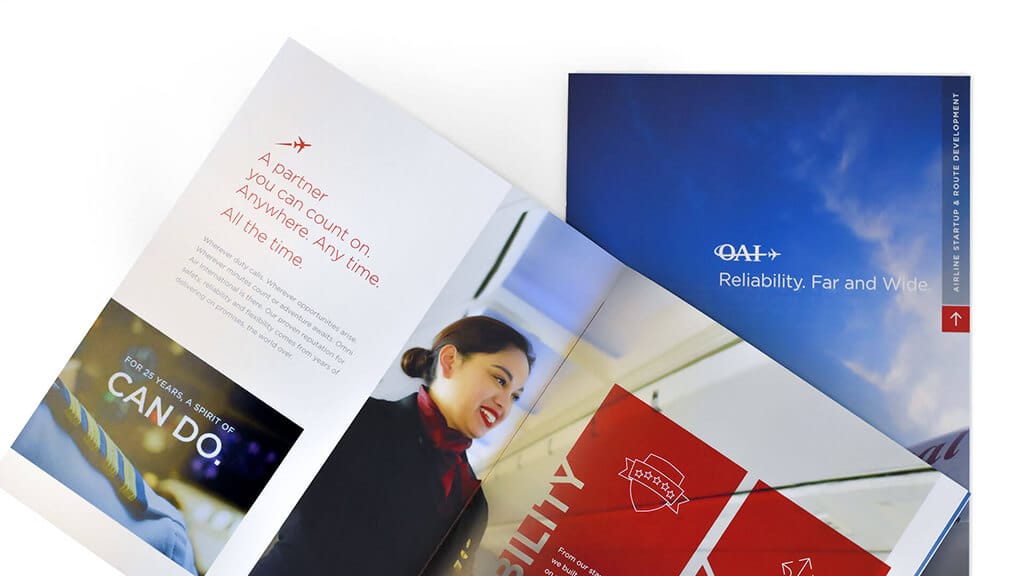 People often think a brand is simply your logo, but it's so much more. This successful rebrand changed everything but the logo.

Omni's legacy logo and our proposed logo.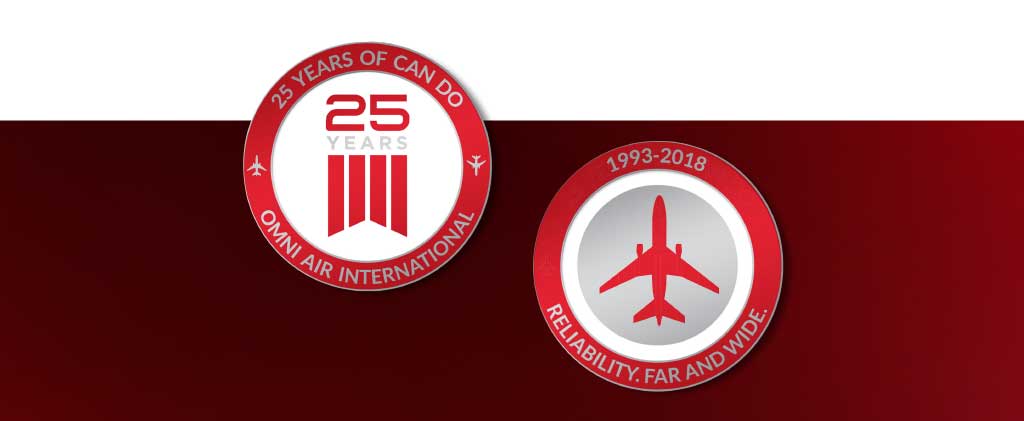 The 25th anniversary logo celebrated Omni's strength without the costs associated with a logo change.
If you go for a new logo, you'll probably want a mark.
Logos can be type treatments or words alone, but these days you'll probably want a mark to use as your social media profile pic.

Your social media profile icon should be a recognizable element of your logo.
When it comes to a new logo, get options — but not too many.
Your logo is the very foundation of your brand, so make sure your agency or designer provides options, but no more than five or so to avoid analysis paralysis. We assign multiple designers to our logo projects and can produce 20, 30 or more options for internal review with the creative director assigned to the project. Weeding out the field to only present our absolute best work is a sign of respect for our clients.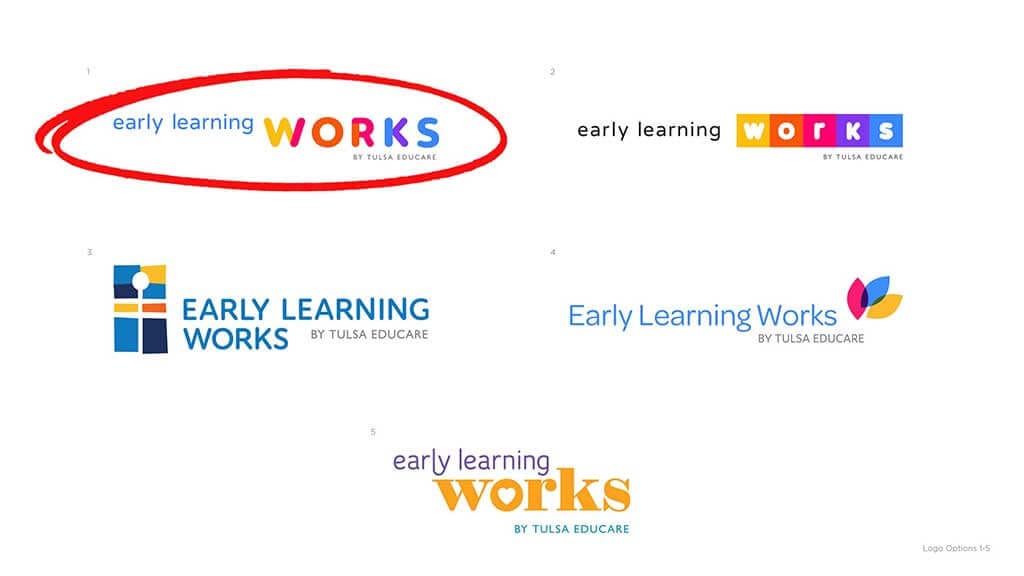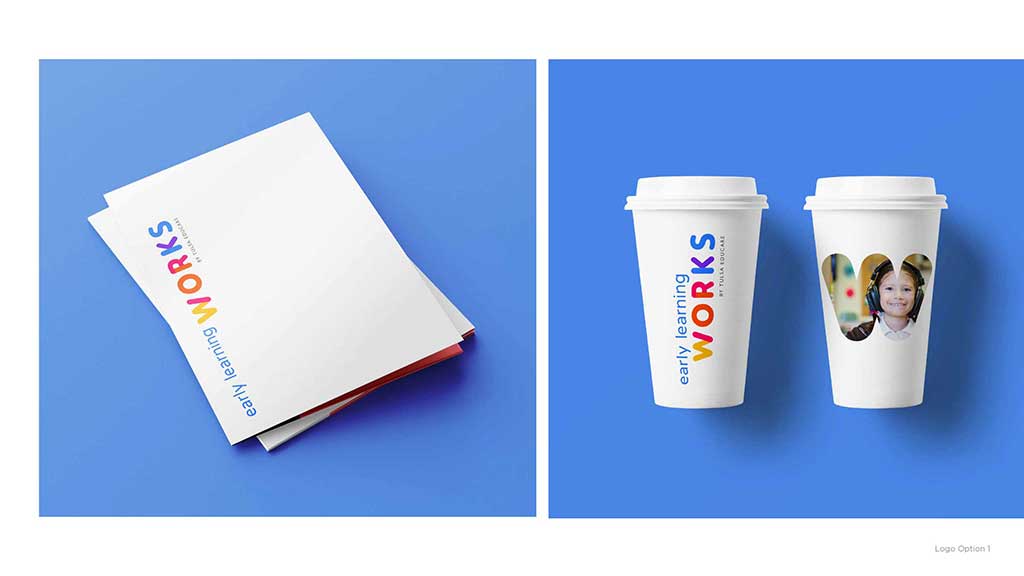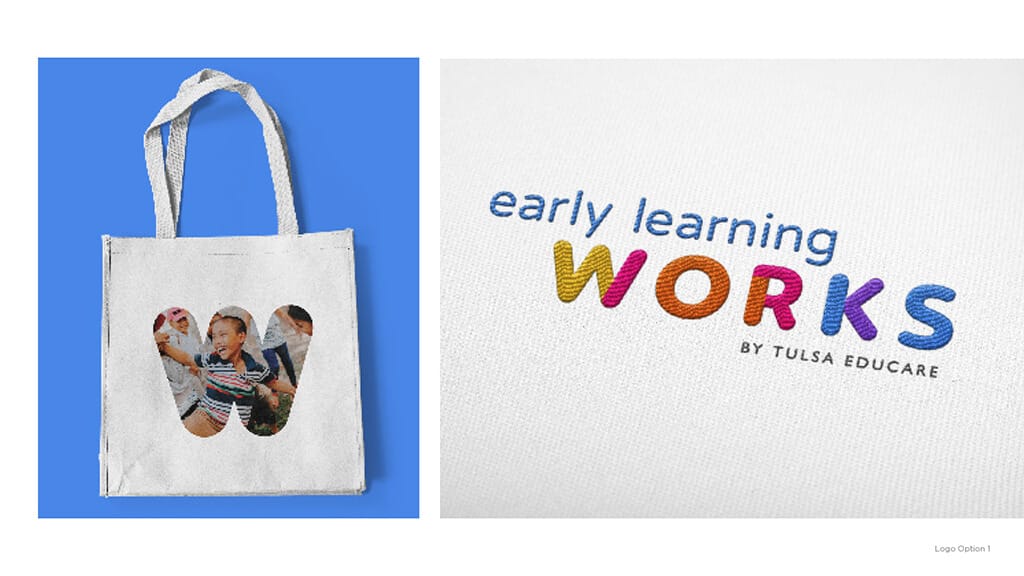 Early Learning Works, an educational non-profit supporting parents and caregivers of young children, chose this option to launch its new brand.
New names come with extra costs, including a potential hit to your SEO progress.
When you rename your brand, the resulting costs to update your logo, identity package, graphic standards, website, social media profiles and signage can domino. Finding a defendable name may require attorney's fees for a trademark search. You may also have to pay thousands to secure a suitable URL. Moreover, any search engine optimization (SEO) progress you built with a previous name and URL could face a setback without spending time and money to mitigate the risk.
Brand colors protect your borders.
Among leading brands, especially B2C brands, colors are becoming more territorial. Think AT&T blue vs. Verizon red. A brand-color mapping exercise performed during a competitive analysis can help identify where you can stand out. Own your main brand color with pride, but make sure your agency provides a secondary color palette to keep your website from looking monochromatic.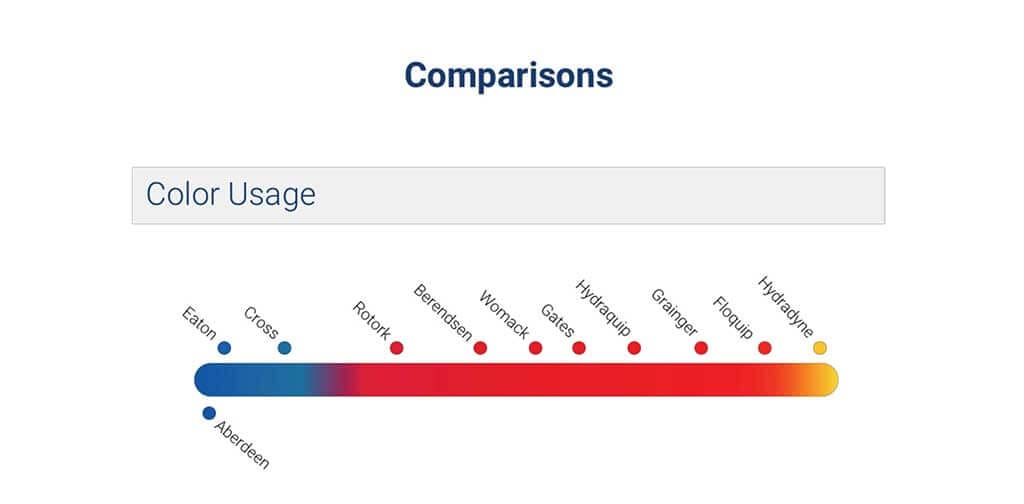 Understanding color usage in your space informs the strategic use of your palette on your website and other marketing materials.
Don't forget the brand messaging strategy.
After a successful rebrand, your agency or team will develop a brand style guide to keep your logo and color usage on track. We believe it's important to create the same type of reference asset for your brand messaging. A solid Brand Messaging Strategy elevates and defines your brand experience to help your entire marketing team effortlessly stay on message. It should also include a competitive analysis to look for messaging deserts within your space, and a wardrobe of sample headlines you can use throughout your creative materials or social media. Packaged as a digital asset, your team can reference it again and again.
If you hate your website, you probably need a strategic rebrand.
Most of our clients who come to us for a new website are actually feeling the discontent of something bigger and end up also asking for a rebrand or brand refresh. When you feel friction or loss of confidence in sending people to your website, it's usually a sign that the branding and messaging are off, outdated or incomplete. A new website is an ideal anchor project to start your brand refresh. Plus, many deliverables can be created simultaneously while your website is in the development phase.
You may only need a new campaign instead of a new brand.
In Madison Avenue's glory days, slogans lasted years if not decades, and those famous slogans we all remember were written 20+ years ago. Our attention span is shorter now. Social and digital media have increased the frequency and diminished the longevity of campaigns. Meanwhile, it takes many months to a year to identify and trademark a new slogan. You might get the marketing lift you need from a well run digital campaign while taking the time to plan your successful rebrand.
Build a branded house rather than a house of brands.
If your company offers multiple products or services, focus your marketing dollars on promoting your overarching umbrella brand, rather than individually branding each product in your lineup. You'll not only gain cost savings, but also tremendous synergy as your name recognition grows. When we first began working with endodontics and dental giant Dentsply Sirona, we launched its endodontic products under individual brand names, each requiring their own logo, trademark and package design. Twenty years later with scores of products in its offerings, the branding emphasis highlights the parent brand — where it will have the most impact.

_With its branded house approach, all Dentsply Sirona products get the same logo treatment to fall under the overarching company brand. _
A brand too far.
A successful rebranding strategy should naturally transfer your brand equity to your new brand. A great (or not so great) example of missing this point is IHOP. When we heard the iconic pancake house was changing its name to IHOB, we immediately assumed the new acronym would stand for International House of Breakfast — to expand and modernize its offering to include healthier options. Instead, they revealed the change was to International House of Burgers, tossing aside their brand leadership in the breakfast space to join the crowded burger arena late in the game. They walked their rebrand back within days.
Don't get tired of your own brand and creative.
Avoid the itch to switch things up for creativity's sake. Staying on message builds trust. Consistency is the compounding interest of marketing.
Like all relationships, brands are made to grow.
Your brand is a relationship built on trust and consistency, but there's always room to keep things fresh. Knowing when you need to rebrand your company or product is the first step in helping your brand grow with the times — and your goals — for years to come. If you've determined that the time is right, a simple next step you can take is reaching out to an experienced advertising agency like ours. We'll walk you through our discovery process and help identify a branding strategy to fire up your brand. Reach out here to start the conversation.